A Guide to Gardening For Butterflies
Following on from the success of last year's Corfu Butterfly Conservation Butterfly Posters and Butterfly identification kits, we are pleased to share this beautiful guide for 'Gardening for Butterflies'. The aim is to help gardeners of all abilities and experience to identify and nurture the plants that these butterflies love in their own gardens and, in so doing, being active participants for biodiversity protection and conservation.
No matter how large or small your garden you can attract many of the island's 76+ butterfly species and support their populations on Corfu by choosing plants that provide copious nectar sources. The plants illustrated on this poster have been selected by Corfu Butterfly Conservation because they are easy to grow and are best propagated from seeds or cuttings.
For more information about gardening for butterflies explore HERE.
Thank you to the talented Poppy on Paxos for her wonderful illustrations.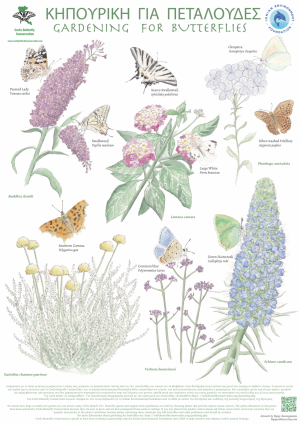 The poster can be downloaded as a PDF here: