Pioneering Research to Promote Sea Turtle Conservation in The Ionian Sea
ARIANA PROJECT: Exploring foraging habitats of sea turtles in the Ionian Sea Archipelagos:
We are very pleased to share the final ARIANA report produced by the Department of Ecology, School of Biology, Aristotle University of Thessaloniki and supported by the Ionian Environment Foundation since 2020. The main objectives of the project were to map key habitats of sea turtles in the Ionian Sea, to assess their exposure to numerous anthropogenic pressures, and to offer a number of tools to advance our management and conservation capacity at sea.
Under this context, the team assembled, analyzed, integrated, and interpreted results derived from a set of advanced methodological tools, databases, background information and recommendations, towards supporting the development and implementation of a robust, strategic adaptive management plan.
As such, for the first time, ARIANA spatially delineates key areas for marine turtles in the Ionian Archipelagos, offering background information, spatially explicit assessments, conceptual models and management actions all of which support the main objectives of the European Biodiversity Strategy for 2030.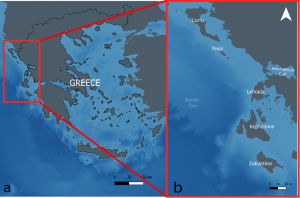 Numerous threats span over both nesting and foraging grounds posing a high risk for sea turtles across multiple habitats. Sea turtles are mainly threatened by human activities including fisheries, increased marine traffic in important foraging and mating sites at the sea, increased noise and light pollution and other pollution events, as well as the impacts of a warming climate in the area. The clear link seen between mapped turtle strandings and human pressures makes the anthropogenic threat and impact impossible to deny.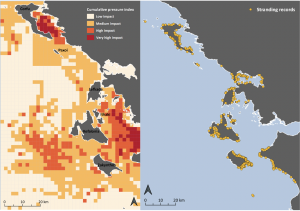 ARIANA and supporting the concept of Adaptive Management:
In a dynamic and increasingly changing sea and landscape management decisions are often supported by limited background information. As a result, many of natural resource planning and management decisions are surrounded by uncertainty.
 ARIANA suggest clear adaptive management strategies that combine management and monitoring tools, with the aim of updating knowledge and improving decision-making over time. It is defined as an approach to policy implementation in which ecological and community responses to management actions are monitored and compared to expected outcomes/results. The framework offered by ARIANA could therefore offer a solid basis for enhancing conservation capacity in the Ionian Sea, while accounting for the interplay of numerous critical drivers of change.
ARIANA  provides novel practical insights towards supporting policy makers and practitioners interested in systematic, long term, effective conservation monitoring and actions and the IEF will use these critical insights to inform and support our future projects and actions.