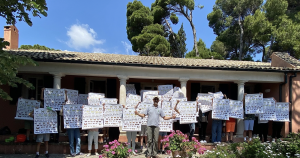 Grants
Habitat & Biodiversity Protection
Corfu Butterfly Conservation
€4000 awarded
A Festival of Butterflies:
A celebration of Corfu's most vibrant biodiversity ambassadors
Corfu Butterfly Conservation encourages the island's residents and visitors to protect Corfu's biodiversity by counting butterflies!
The ultimate aim of this project is to help people learn about the important role that butterflies have as indicators of a healthy ecosystems whilst also inspiring a fascination for the wonders of biodiversity more broadly.
This citizen science scheme is designed to encourage residents and visitors to the island to record the butterflies they see on the CBC website:
(www.corfubutterflyconservation.org)
To complement the counting and recording platform, the IEF is thrilled to support the creation of 8,000 dual language butterfly posters, one for every child, in each of the island's 54 primary schools. These posters are designed to aid with the identification of the 75 known butterfly species observed on Corfu by the members of CBC, since April 2014.
Additionally, we will support CBC in the  supply of Greek butterfly identification guides for each of Corfu's 897 primary school teachers, along with creative lesson resources to help the teachers encourage and inspire their pupils to identify and record the butterflies they see in Corfu.
Finally, we are collaborating on the creation of a simple 'Planting For Butterflies Guide' which aims to be circulated in garden centres and amongst the general public this Spring with the aim of fuelling planting action that serves to promote the favoured habitats of Corfu's butterflies!