Grants
Sustainable Development & Resource Management
Pelagoo – Promoting the Safe Consumption of Kalamos' Natural Spring Water
€7000 awarded
We are very pleased to be partnering with Pelagoo on an exciting new water resource pilot project on Kalamos Island.  Pelagoo works to find sustainable solutions for remote island communities in the Ionian region and will be developing the project collaboratively with local stakeholders and the IEF's support from the Spring, 2023.
Pelagoo is a small, young organisation aiming to build sustainable and resilient remote island communities through environmental, educational, technological and hospitality innovations. Pelagoo's mission statement includes the following:  "…we believe that every project and initiative has to be done in a way that no one gets left behind, whether that is communities, the natural environment or culture. We are community builders. We believe that the best way to change a situation for the better is to implement solutions through the community."
The core objective of the project is to address the waste management crisis on the island – fuelled in part the excessive plastic bottled water consumption – by promoting the safe and accessible use of the islands' natural spring water.
Together with an awareness raising campaign, the project will follow 3 main steps-
Install a water quality sensor with an IoT System at the natural spring
The municipality will receive Real Time Data from the sensor and, using the Pelagoo App, will monitor, control and maintain the quality of the water.
Install an accessible water vending outlet from the spring to provide water supply to the local community.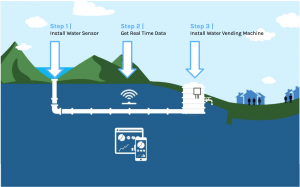 This is an important action in addressing the crisis of poor safe drinking water access as well as addressing the island's waste management crisis by dramatically reducing imported plastic water bottles.
The project clearly supports one of the IEF's core areas of concern – sustainable development and resource management.