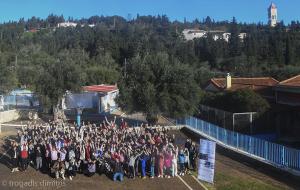 Grants
Civil Society and Capacity-Building
Ocean Education for Schools on Remote Islands
€6500 awarded
The cycle of the Ocean Secret's seminars deal with critical and topical issues of the Planet: Marine Pollution, Biodiversity Conservation and Climate Change (2 of the 17 Sustainable Development Goals as established by the UN and the EU). 2021 marked the start of the Decade for Ocean Science (UN) and Ocean Literacy (OL) is crucial to turn knowledge into action. The condition of our planet affects us directly while it determines our future, living conditions, challenges, and even our survival.
The aim is, through an experiential and multi-sensory approach, the primary school students to become aware of the relationship between man and the marine/ocean environment both locally and globally (however far from the coast they live), to become aware of the problems associated with it and to become active in an effort to address them.
The motivation and interest to carry out these actions in hard-to-reach schools of the Ionian Islands is to give these children the opportunity to have access to a special extracurricular activity that will enrich their school program, to raise awareness in the context of developing the skills of active citizens of the world but also to feel that they are included, that they are not isolated, and that they have opportunities. The material has been prepared based on academic knowledge in the fields of Oceanography, Climate Change, Marine Pollution, Environmental Impacts, and Sustainable Development. Moreover, recently it has been updated by new knowledge and teaching practices through the completion of ASPAITE's Pedagogical Proficiency program.
On May 2, the second mission of Ocean Training begins in Kalamos, Ithaca and Zakynthos, after the first mission took place in November and December 2022 in Mathraki, Erikousa, Paxos and Meganisi.
You can watch the action here: