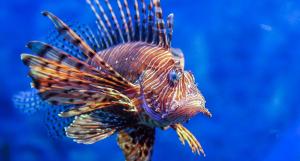 Grants
Marine Conservation
Pick the Alien in the Ionian
Islands: Zante Island, Lefkas Island
The project has three clear objectives:
to fight Invasive Alien Species (IAS) through gastronomy
to inform about the issue, namely the IAS of Greece and the toxic and venomous IAS
to monitor IAS through citizen science contributing to the assessment of the descriptor D2 in the context of the MSFD
Background
Pick the Alien is the campaign of marine conservation organisation iSea to promote the consumption of specific alien (non-native) species and introduce them in stores & restaurants, starting with the local markets. They will additionally inform the public about alien species a citizen science training programme about recording and monitoring alien species.
Fighting alien invasive species through gastronomy!
Biological pollution ranks as the second greatest threat to biodiversity in the marine environment and is being responsible for the loss of biodiversity and ecosystem services. Among marine ecosystems altered by invasion, the Eastern Mediterranean Sea underwent the most intense and exceptionally rapid changes globally, fostered by climatic changes and other anthropogenic drivers. Despite the ecological consequences, invasive alien species have an economic impact in the local communities with impacts on commercial fisheries and tourism, as some of the species are venomous and poisonous. The main species that will be addressed are: lionfish, rabbitfish, cornetfish, atlantic blue crab.
Objectives and approach
This project will follow a manifold approach. First, it will promote the consumption of selected IAS aiming to insert them in the local seafood markets and seafood industry. Then, the project will invest in raising the awareness of local stakeholders (professional and recreational fishers, divers, restaurateurs, local authorities and others) regarding the issue of biological invasions, with a special interest on mitigation and protection from toxic and venomous species. In addition, the project will empower the local communities for reporting IAS and supporting the assessment of descriptor D2 of the Marine Strategy Framework Directive (MSFD; EU 2017/848).
Through round tables iSea will bring together fishermen and restaurateurs for discussing the creation of a pilot chain that will supply alien species in restaurants. Last, a label will be produced and promoted among restaurants aiming to inform consumers that by selecting plates with alien species as ingredient support the ocean conservation.
Note: The project replicates the one that was successfully implemented in the Cyclades in 2019, by the support of our sister foundation, the Cyclades Preservation Fund.