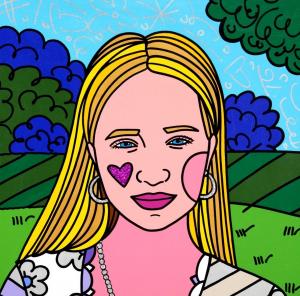 Grants
Civil Society and Capacity-Building
The Iris Project
About the Iris Project- "One minute for your island"
The Iris Project is a competition held in memory of Iris Goldsmith, the daughter of Ben Goldsmith who tragically lost her life in an accident on her family farm in 2019.
As a tribute to Iris, who had a deep lifelong connection with the natural world and who firmly believed that finding harmony with nature is the overriding purpose of humanity, the family have embarked on a quest to continue Iris' mission by creating a competition run by the Conservation Collective's local environment foundations.
The competition is aimed at 15-18 year olds living within the Ionian Islands and seeks to identify and empower young individuals to become environmental guardians of their local areas.
This sits firmly in line with the Conservation Collective's mission of supporting and nurturing local scale initiatives that could in turn sustain long term positive impact. The competition has scope to be held annually and on an international basis, enabling young individuals to follow the rationale of "think globally-act locally".
About the competition
The competition is open to all high school students

15-18 years old

, living in the

Ionian Islands

(with permission from a parent or guardian). 

Entry into the competition can be done

individually

or with up to

two persons per video.  

To enter the competition you must create a

1 minute video identifying and highlighting an environmental issue concerning your local community (island) along with your approach of how it can be tackled (get creative, anything is possible)! 

The theme should be something that directly affects your local community and relates to plastic pollution, climate change, marine environment, biodiversity, CO2 emissions or anything else related to the environment and sustainability of the islands.

A prize worth 500€ will be shared by the winners, that will mainly consist of a week-long experience with one of the following organisations (all expenses covered):

Katellios Group

, a local  environmental  activist association or

Wildlife Sense

, a sea turtle research & conservation organisation, both of which are based on the beautiful island of Kefalonia, Greece .

The winning project will be selected by a jury consisting of members of the IEF and relevant people from the Ionian Islands.
If this is of interest to you and your passionate about tackling environmental issues in your local community, then please fill out this application form by June 6th 2021 and submit your video by June 30, by emailing at irisproject@ionianenvironment.org.
International competition
Anyone who takes part will be eligible for nomination for the Iris Prize, a global award scheme that supports young people in their efforts to protect and restore their local natural environments. Successful candidates will receive financial support and mentoring to help establish their environmental initiatives, and to inspire others around the world to do the same.