Greek National Tourism Organisation Launches Sustainable Greece
The Greek National Tourism Organization (GNTO), launched its new content hub 'Sustainable Greece' this morning in London, with panelists including the Executive Director of the Ionian Environment Foundation, the Customer Director of Responsible Travel and the Founder and Producer of Green Traveller Productions.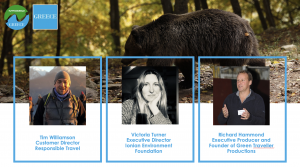 Hosted by Eleni Skarveli, Director of the GNTO, the launch showcased examples of the IEF's projects and sustainable initiatives, social sustainability and responsible holidays.
Deputy Minister of Tourism, Sophia Zacheraki was also present and acknowledged the importance of showcasing, promoting and celebrating examples of best practise and sustainable initiatives within the tourist sector of Greece. She explained how the Ministry of Education has already taken steps to promote a change in mindsets, attitudes and actions in the next generation by integrating one hour per week into the school curriculum to be devoted to environmental activities and lessons.
Eleni Skarveli comments; 'As a country, Greece has always been green, as the way of life has been eating from the land and supporting the local community but we just haven't tagged it as 'sustainable' until recently. As such, we have a good base to work from and have initiatives and an important strategy in the pipeline. We need the industry behind us to be able to offer visitors the greenest holiday options possible and to make Greece not only white and blue but also green. We hope the new hub shows how tourism businesses can adapt and transform to offer a more sustainable product.'
The IEF was able to explain the IEF Villa Alliance initiative, also launched this year, as an opportunity for raising funds from partnering villa companies via each villa booking to support our projects. The alliance also aims to help all those involved in the villa industry (owners, housekeepers, cooks, gardeners, plumbers etc) to make small changes in the way that they operate as a business to ensure they tread more lightly on the environment. Visitors to these villas will be given the opportunity to learn about, and even engage with, the projects taking place across the Ionian region that the alliance supports ensuring that, whilst having a fabulous holiday in the Greek environment, they are also actively contributing to safeguarding it.
Such an approach is also referenced  by the activist holiday company, Responsible Travel which states: 'We believe that when done well, tourism can create many benefits to local communities and help with the conservation of natural and cultural heritage. We also believe that this way of travelling is richer and more enjoyable too.'
The event was an excellent opportunity to meet and engage with other organisations and businesses intent on working with the tourist industry of Greece to promote a tourism that not only celebrates, respects, and safeguards the environment, but also ensures that it will continue to be a successful and lucrative industry for Greece in the future.