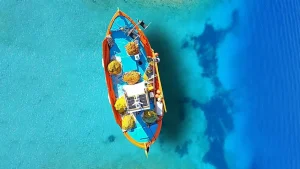 Marine Conservation
Area of interest
The IEF seeks to protect and restore the Ionian Sea
The Ionian Sea covers a large area with the relatively shallow Adriatic to the East of the islands, reaching no more than 40 metres in depth, and the deep Ionian Sea to the West reaching 5.269 miles in depth at its deepest point. Due to the diverse surrounding landscapes, the Ionian Sea is well oxygenated and  full of life.
In these waters live an impressive variety of fish, amphibians, small and large cetaceans, including several species of whales and dolphins. Ironically, the so-called common dolphin has for many years now been an endangered species, with a concerning reduction in numbers in the Ionian Sea.  The Ionian Sea is also the favoured home to caretta-caretta sea turtles and to monk seals (monachous monachous).
Human activities have caused great declines in the populations of many of these species over the last decades, but thankfully we have identified some impressive organisations working to improve the chances of their conservation and protection.
We want to contribute to restoring the balance to the Ionian Sea, and ensure that nature and humans prosper and benefit from each other for many years to come.