Discussing A Nature Positive Future for Erimitis and Corfu
Last week, in the context of the broader exploration into alternative nature-centric management plans for Erimitis, John Regan BioParks specialist, Professor Sir Drummond Bone and Dr Mike Maunder spent a week in Corfu investigating the island's appetite for such an approach. Together with the IEF, they spoke to local ecologists, members of the hospitality industry, the Ionian University, Lee Durrell and others to inform their report.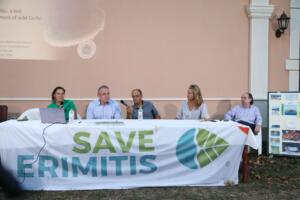 Dr Maunder during his presentation to the public, acknowledged the importance of Erimitis as a last area of coastal wild nature, accessible to all that includes:
• Threatened species
• Sea grass meadows
• Potential for low impact tourism but with improved local benefits
• Potential for schools and community education
• Potential for a research facility
• Opportunity to rebuild nature and push the ignition button for rebuilding natural capital across Corfu and the Ionian islands
The professors argued that Erimitis could be a step forward to a nature positive Corfu based on the principals that Nature is recognised as a vital resource for Corfu's prosperity. In this scenario there is a shift from exploitative tourism to regenerative tourism that reflects and enhances nature and culture.
Finally, they congratulated all the individuals and groups who have fought so effectively for Erimitis to ensure it is still here for us to enjoy. Now they could be ready to begin planning for the management of this unique environment, using this victory to drive an island wide change. The vision would be that Erimitis will survive as part of a network of linked landscapes that are integrated into the Corfu landscape and economy.