IEF Villa Alliance First Event
The first IEF Villa Alliance event, A Nature Positive Future Sharing Ideas For Best Practice, took place this week in Nissaki, Corfu. Over 25 people attended, including villa managers, housekeepers, gardeners and owners, to understand more about how they can contribute to making Waves for Change: small actions, BIG WAVES! We had presentations from the co-manager of SinPraxi Recycling Centre in Sinies who explained how to ensure recyclable waste can be effectively managed in the home to ensure it is diverted from landfill. Hans Peter Olsen – a composting specialist also gave a useful talk to explain how to create compost using a machine that mitigates against the problems of smell and vermin.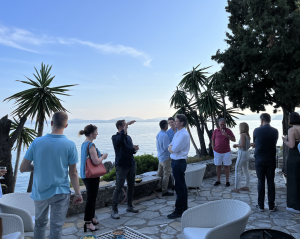 The aims of the IEF Villa Alliance and Waves For Change accreditation scheme were also explained: each villa can be awarded up to 5 Waves based on the adjustments made in the villa to minimize their impact on the local environment. These can be displayed on their website beside each villa to show the environmentally discerning guest that they are supporting a business that strives to reduce the pressures on the islands' natural resources.
The actions they take will visibly display and model the kind of sustainable behaviour and environmental awareness that should be becoming prevalent across the tourist industry in Greece. In addition, our hope would be that, over time, their example will filter down into the community and similar actions/changes will be seen in local businesses too. Villa owners and managers are therefore playing a key role in changing the mindset, attitude, behaviour and hopefully even POLICY, in relation to the conservation of their islands.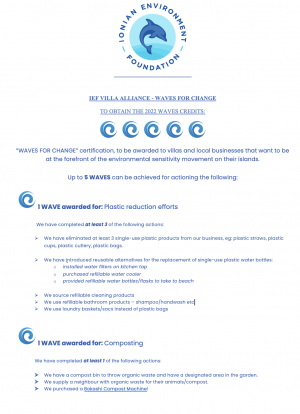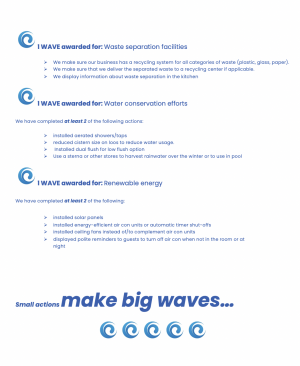 Ultimately, we aim to establish a partnership where we can coordinate and host events, together with presentations from experts in these areas, on the islands to promote our various actions on:
sustainable villa design
plastic free homes
waste management schemes
composting
water saving techniques
water management/filter solutions
sustainable energy solutions
conservation of gardens/footpaths/indigenous plants
marine conservation initiatives
data collection games and apps for clients that feed back to meaningful data banks and research on flora and fauna  etc
If you would like to learn more about how you can join the IEF Villa Alliance then please contact:  victoria@ionianenvironment.org
If you would like to support the IEF with this initiative then please do DONATE
THANK YOU!